Touchdown for Dowgiewicz
An exciting home stretch for senior football player, Brett Dowgiewicz and his high school career.
Wilson football is soaring through a successful 10-1 record, the bruins clinch a season to remember. Many of these bruins like Brett Dowgiewicz have been involved with the sport since childhood, like popcorn football at an early age. For Dowgiewicz, football has been a passion from the get go. He has been playing for eight years now, and has spent four of them playing with the Wilson football program. 
Before the big rivalry game against Poly, Wilson maintained a 6-0 record which is one for the books as our school has not seen this amount of success with football in years. 
"Throughout my sports I've never really been on a team that's this successful before and I feel more inspired to do better." 
The expectations to uphold a reputation not only swarms Dowgiewicz's mind but it motivates him and all of the Wilson team to do the best that they can.
 "I want to keep up that streak alive and go one-hundred percent at practice and I'm pretty sure all the other players would do that too."
 Although the well renowned Poly team took the win, the bruins gained much more. 
A tight bond with the people you share the field with is an essential element to a great play and overall game. The relationship between the Wilson Football team was highly reflected in the historic undefeated record that the bruins accomplished this season, and it was all chemistry as Dowgiewicz described that made it happen.
 "My freshman to junior year I didn't really see much of the family-like atmosphere. When it came to my senior year I just saw a complete change and now it seems more like bonding and chemistry. It's just overall better."
 Beyond Stephen's Field, the bruins see each other as more than just teammates and Dowgiewicz even considers some of his teammates brothers. "I would describe my relationship with my teammates, like a lot of the football players will say, Brotherhood." Game preparation is also crucial for a good game on a Friday night. Dowgiewicz is a player with zero superstitions, he simply prays and plays.
 "I usually just pray a little bit before the game. Praying that I don't get injured, that my players don't get injured, and giving me the strength [for the game.]"
Outside of number twelve on the field, Dowgiewicz loves wrestling and rugby, "I just watch a lot of film for football and I don't have much social life. I just play lots of sports and stay active, I love playing rugby." Although the numerous activities and sports are enjoyable and create a sense of accomplishment for Dowgiewicz, managing school and football can be difficult. When asked how he manages the two subjects, "knowing when to choose that time to do the homework and balancing out your free time and having fun, having that high school experience," is the key to making it out alive. On the weekends, the outside linebacker tends to spend a lot of time with his family. 
The high school experience will come to an end in June for Dowgiewicz, "I'm not planning on attending college for football." Along with the brawn comes the brains, as the senior plans on attending Cal Berkeley for architecture and possibly playing collegiate rugby. "I just didn't see me playing football at any college because it's so competitive now, you know? Playing D1, so I thought I'd have a better career for rugby." Many of his decisions and plans are influenced by his brother who currently plays rugby for Cal Poly SLO: San Luis Obispo. Dowgiewicz's desire to major in architecture is no coincidence, "I basically want to be like him one day and he's my inspiration I would say."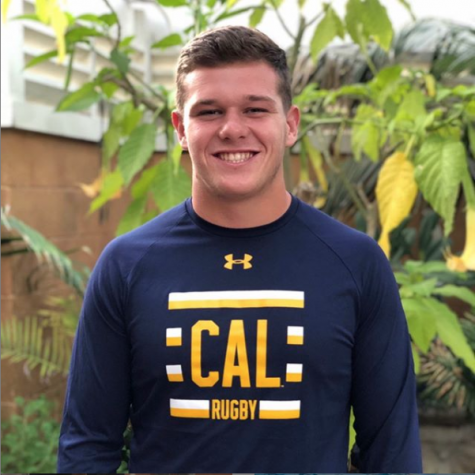 He has been a part of the architecture program at Wilson for three years, unfortunately due to little interest in the class, the architecture elective is no longer available, and it diminished Dowgiewicz objective of becoming a 7-8 architecture student. Despite the hapless event, he will carry on with his wish of becoming an architect and rugby player. Dowgiewicz officially signed with the Cal bears on November 13th and he will be playing rugby with the Golden Bears in the fall. Look out for number 36 on the field at playoffs, it's Brett Dowgiewicz.