Turkey Syria Earthquake 2023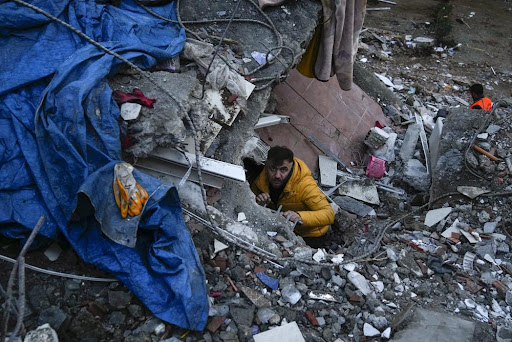 Long Beach, CA-  Thousands of people have been found dead and millions displaced in the wake of the earthquake in Turkey and Syria. On Monday, February 6, 2023, at 4:17 a.m. local time, a catastrophic magnitude 7.8 earthquake and a sequence of intense aftershocks devastated millions of civilians across southeast Turkey and northwest Syria. At the time of writing, the tremor has claimed at least 50,000 lives, has left over a million homeless, at least 2.4 million displaced, injured at least 122,500, impacted at least 24 million people, and has caused $50-$85 billion in property damage. Since the initial earthquake, over 1,600 aftershocks have impacted the region, according to the United Nations Office for the Coordination of Humanitarian Affairs (OCHA).
On Monday, February 20, 2023, at approximately 8 p.m. local time, exactly two weeks after the natural disaster struck, a magnitude 6.3 aftershock rattled Turkey's southern Hatay province, near the Syrian border, which has injured at least 294 people and has killed at least 6. Ninety aftershocks have thus followed, the largest being a magnitude 5.8.
The devastating impacts of the Turkey and Syria Kahramanmaras earthquake extend past mere statistics. Hundreds of thousands of children and their families are now homeless, children have been placed at great risk of hypothermia in their struggle for survival in below-freezing temperatures. Children are also at risk of waterborne illnesses including Hepatitis A and cholera due to the damage to water infrastructure. People have been forced to sleep outside, if not in their cars or in makeshift shelters. Children are also unable to return to school due to property damage. Many have been left orphaned, and countless others have been left even more vulnerable to family separation, exploitation, and abuse.
Turkish Government Experiences Backlash
In the wake of this tremendous seismic event, an event that has caused such immense destruction to which even the most prepared government would struggle grappling with, the Turkish government in particular has faced criticism for its reaction. 
The Turkish government, currently under President Recep Tayyip Erdogan, has been widely criticized for what many view as poor preparation and a sluggish response to the tragedy. Critics have pointed out that natural disaster funds were spent on highway construction projects managed by the president's associates and his coalition government rather than saved to aid  natural disasters like this. 
Critics have also brought to light that there was an earthquake tax imposed after a 1999 earthquake affecting Northwestern Turkey took the lives of over 18,000 people, a tax which was intended to gather billions of dollars for disaster prevention and relief. In an NPR interview, political opposition leader Kemal Kilicdaroglu states, "Where is the money? It's gone." 
Another point of contention with critics of the Turkish government is how under Erdogan, the government has been centralized, which has led to a plethora of restrictions on the operation of individual cities and aid organizations in the country, hindering rescue efforts.
How Can We Help?
Many countries and individuals worldwide have lent a helping hand to the victims of this mass destruction. 
According to NPR, the U.N. is appealing for $1 billion to help over 5 million people in Turkey and $397 million for Northwestern Syria, which has recently also been affected by a civil war and divided between opposition and government control. The World Health Organization is also lending a hand, delivering a slew of medical supplies to Syria such as amputation equipment, intravenous fluids, and medicine. 
Aid agencies have worked to help millions with food, tents, warm clothing, blankets, mattresses, and mental health support. Volunteers have donated blankets, clothes, and food to those affected by the earthquake and its aftershocks at various locations across Syria and Turkey.
A notable contributor, Twitch streamer and political commentator Hasan "HasanAbi" Piker, has currently raised $1,368, 251.79 with the HasanAbi For Turkey-Syria Earthquakes Fund. This fund supports those impacted by the earthquakes, benefiting charities including CARE Turkey, CARE Syria, AKUT, and Ahbap. Piker himself is Turkish, although now living in Los Angeles, and has continuously used his platform to assist this cause with the HasanAbi For Turkey Syria Earthquakes Fund.
Revisiting Our History
Although an outcome like the one in Syria and Turkey as of late seems unfathomable, as residents of Long Beach, our city has previously faced an–although far less tragic or destructive–fairly similar fate. At 5:54 pm on March 10th, 1933, nearly exactly 90 years ago, our city was greatly affected by a magnitude 6.4 earthquake. Although the 1933 Long Beach earthquake did not claim nearly as many lives (death rate: 120 lives, 52 in Long Beach and 17 in Compton), it too caused thousands of people's homes, schools, and places of work to crumble beneath their feet. Wilson High School was no exception. 
The destruction done to buildings including Wilson High School amounted to a property damage price of $50 million dollars (about $1.15 billion adjusted for inflation). Seventy schools were destroyed and 120 were damaged, representing 75% of schools across Long Beach, Huntington Park, and Compton. Along with this mass destruction, broken gas lines led to fires in Long Beach and broken pipes left some areas without water.
California State Legislature passed the Field Act merely a month after the quake when it was discovered that loose subsoil, substandard materials, and careless workmanship contributed to the school structures having failed. The Field Act called for designs based on high-level building standards adopted by the state, prepared by competent designers, and qualified by state registration. The construction quality under this act was to be enforced through independent inspection and plan review. It also required that design professionals, inspectors, and the contractor must verify that the building was constructed according to approved plans.
Since the Field Act was placed, no school has collapsed due to any seismic event in any of the previously affected areas, and no lives have been lost.
Sources Cited
Al Jazeera. (2023, February 21). Fear, panic as new earthquakes hit Turkey-Syria border, killing 6. Turkey-Syria Earthquake News | Al Jazeera. Retrieved March 1, 2023, from https://www.aljazeera.com/news/2023/2/20/new-6-4-magnitude-earthquake-hits-southern-turkey 
Batrawy, A. (2023, February 18). Aid groups help Turkey-Syria quake survivors amid global crises and donor fatigue. NPR. Retrieved March 1, 2023, from https://www.npr.org/2023/02/18/1157783760/turkey-syria-earthquake-aid-donor-fatigue 
Burakoff, M. (2023, February 7). What to know about the big quake that hit Turkey and Syria. AP NEWS. Retrieved March 1, 2023, from https://apnews.com/article/turkey-earthquake-science-explainer-67ca711fbed2c39b1ca37d1bd9c4fd27 
CNBC. (2023, February 20). Turkey and Syria rocked again by magnitude 6.3 earthquake. CNBC. Retrieved March 1, 2023, from https://www.cnbc.com/2023/02/20/turkey-and-syria-rocked-again-by-magnitude-6point3-earthquake.html 
Conservation, C. D. of. (n.d.). The 1933 Long Beach earthquake. CA Department of Conservation. Retrieved March 1, 2023, from https://www.conservation.ca.gov/cgs/earthquakes/long-beach 
Czachor, E. M. (2023, February 22). Another strong quake hits near Turkey-Syria border, rattling devastated area. CBS News. Retrieved March 1, 2023, from https://www.cbsnews.com/news/turkey-syria-another-earthquake-hatay-province/ 
Hallam, J., Gezer, Y., Sariyuce, I., Kourdi, E., Karadsheh, J., Alkhaldi, C., & Khadder, K. (2023, February 21). Magnitude 6.3 aftershock strikes Southern Turkey, killing 6 and injuring hundreds 2 weeks after massive quake killed thousands. CNN. Retrieved March 1, 2023, from https://www.cnn.com/2023/02/20/middleeast/turkey-quake-aftershock-intl/index.html 
HasanAbi. (n.d.). #hasanabiforturkeysyriaearthquakesfund. HasanAbi For Turkey Syria Earthquakes Fund. Retrieved March 1, 2023, from https://events.softgiving.com/donate/HasanAbiForTurkeySyriaEarthquakesFund 
Lind, I., Lind, I., 4, B. there N., 22, A. B. N., & 21, M. D. K. A. (2016, November 3). Throwback Thursday: Long Beach earthquake damage, March 1933. i L i n d. Retrieved March 1, 2023, from https://www.ilind.net/2016/11/03/throwback-thursday-long-beach-earthquake-damage-march-1933/ 
Omer, S. (2023, February 24). 2023 Turkey and Syria earthquake: Facts, faqs, and how to help. World Vision. Retrieved March 1, 2023, from https://www.worldvision.org/disaster-relief-news-stories/2023-turkey-and-syria-earthquake-faqs#help 
Person, & Ashawi, K. (2023, February 21). Quake deals new blow to Syrian medics after years of war. Reuters. Retrieved March 1, 2023, from https://www.reuters.com/article/idUSL8N3514OT?UTM_CAMPAIGN=Big_Moments&UTM_SOURCE=Google&UTM_MEDIUM=Sponsored 
Person, & Clodagh Kilcoyne, H. C. (2023, February 19). Doctors without borders gains access to quake zone in Syria. Reuters. Retrieved March 1, 2023, from https://www.reuters.com/world/middle-east/teenager-rescued-rubble-turkey-10-days-after-quake-2023-02-16/#:~:text=The%207.8%20magnitude%20earthquake%20that,run%20into%20billions%20of%20dollars. 
Schmitz, R. (2023, February 9). As the earthquake death toll soars, so does criticism of Turkey's government response. NPR. Retrieved March 1, 2023, from https://www.npr.org/2023/02/09/1155647266/turkey-earthquake-erdogan-government-response-criticism 
Wikimedia Foundation. (2023, March 1). 2023 Turkey–Syria earthquake. Wikipedia. Retrieved March 1, 2023, from https://en.wikipedia.org/wiki/2023_Turkey%E2%80%93Syria_earthquake