A Second Open Mic Night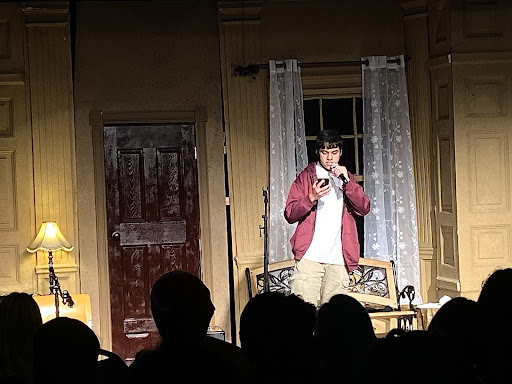 LONG BEACH, CA- On Thursday, December 8th, Wilson's playhouse was open for their second open mic night with holiday spirit in the air. 
The stage was set up with fake snow and a mini christmas tree to get the performers in the holiday spirit. The stage was last being used for the play "Clue" early this December, being a huge success among students and family.  Students performed in a number of medians, like singing songs, playing instruments, comedy skits, and much more. 
"I really love performing, so I thought why not perform with my friends this holiday season," said Eden Gordon, senior and the vice president of the drama club.
One of the songs that Gordan performed was "Snowman" by Sia.  This piece truly showed the positivity in the audience's atmosphere; this feeling was reciprocated by the waving of flashlights from phones across the venue.
There were familiar faces in the room as well, as Bruins from the previous Open Mic Night were there for a second round of support.  They were impressed by the talent that was showcased in the last group of performances and were hungry to see more.
Anne Smith, Wilson's Theater arts director, hopes more students will come to the next show and show more support to their peers. "I just want as many kids as possible to take part, and I think it's fun when they come out and try their best," said Smith.
Smith plans on having several more of these showcases, having them span out over the course of the rest of this school year.