First Open Mic Night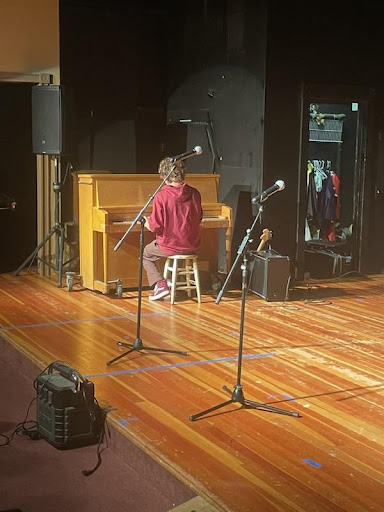 LONG BEACH,CA- A cell phone light wave in the audience started at Quetzal Alcaraz's moving performance. 
"It was a great first show, there were lots of great performances, people were supportive." said Anne Smith, Wilson's theater teacher.
Oct. 27 marked Wilson's first mic night, packing the playhouse with excitement. Everyone was eager to hear each performance. "Almost a full house," Anne said.
This night had a variety of performances, including poetry, song, guitar, piano, and monologue. 
The first performance of the night was Eden Gordon, a senior in the Performing Arts pathway and active member of the drama club. "I was kinda nervous for the first one, but just being on stage and putting myself out there really made it easier and more fun," Eden remarked, following his performance of "Introducing Me" by Nick Jonas.
The atmosphere was said to be very calming, noted by Guilermo Carleto, a Senior. "I was really nervous but everyone was accepting which made it an enjoyable experience".  
Julian Alcaraz, a Sophomore in Performing Arts, played piano for the audience. He said he "wanted to share my talent with my peers." Julian also mentioned how supportive the audience was and how he may perform at the next open mic night. 
 "It was something of a spontaneous decision," Gabriel Matos Javier mentioned when asked why he made the decision to perform. Gabriel ended the show off with what  many would consider a spectacular performance. He rocked the stage performing a very known single "Human Nature" by the one and only Michael Jackson. When asked why he chose to sing the hit single he stated that, "Michael Jackson's Human Nature is his favorite song" .
Wilson's Open Mic Nights are the perfect place to perform in a welcoming environment. The next Open Mic Night will be on December 8th, 4:30 to 6:30 at the Playhouse.