New Principal, New Policies: Holland Comes to Wilson
     At the end of 2019 spring semester, gloomy news of Dr. Blazer's retirement came with exciting news of a new principle– Kimberly Holland. Since the school year started, Holland has been introduced to the school– new policies, philosophies, staff and all.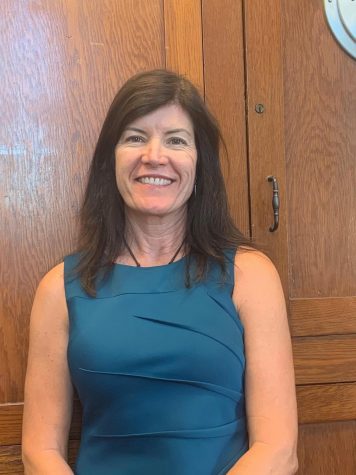 The transition from one school to another is inevitably turbulent. Last year she was principal at Renaissance High School and before principal at Rogers Middle School."It's been fun," Holland says of her first month at Wilson, "it's challenging because I am getting to know everyone."
     But moving to Wilson is more than just meeting new people. Renaissance High School has about 420 students while Wilson has over 3,500 students– creating drastically different school environments. 
     "It's a lot more exciting, I love the sports and the marching band, cheerleaders, and all of the spirit Wilson has." 
     Holland was in the UCLA marching band and appreciates the unique sense of spirit that a larger school brings.  She also loves football season and Wilson's plethora of bands. 
     Holland is also the head administrator for the Arts Pathway. Having previously taught music in her academic career, she has a love for the arts which is currently being highlighted through the pathway. 
     Holland plans to get to know the school and its people– largely including visiting classrooms and observing teaching. Apart from getting acclimated to the school, Holland has specific objectives for the year that she hopes will improve Wilson. These objectives largely come from the CORE survey given to students and staff annually and a "change of principle seminar" held over the summer, with teachers, faculty and staff. At the seminar, people discussed with Holland, changes they would like to see. Through this, she has determined that the top priorities are safety and education. 
     Student responses on the CORE survey conveyed a stunted sense of safety. This has prompted Holland to introduce new measures which address this data– encompassing bathroom closures at lunch among other things. 
     "I want to make sure all students feel safe… make sure all students are learning," Holland said of her goals for the year.
     In terms of education, Holland would like to see improvements in the A-G completion rate, graduation rate, and PSAT/SAT scores amongst regular curriculum grades. 
     While not a Wilson alum herself, she has been a California resident her whole life. She went to Alta Loma High School in Rancho Cucamonga, and attended UCLA for college.
     Holland is also an avid dog lover, golfer, and Harley Davidson motorcycle fanatic. She has two dogs– one of which is almost fifteen years old and is a Kerry Blue Terrier. 
     When asked what she is most excited for this year, Holland explained she is just "excited to be apart of the Wilson team." 
     "It is just a really fun place to work. I feel very honored I was chosen to be the principal."
     Students and staff alike are geared up for a year of change, innovation, and school spirit.