WAVE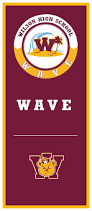 photo credit: wilson high school
Wilson Academic Vision of Excellence
The WAVE pathway exhibits the best qualities from students. It is the most rigorous program provided in Wilson High School, which is designed for students who excel in and out of the classroom.
Requirements:
History
Freshmen Year: AP Human Geography
Sophomore Year: AP World History
Junior Year: AP US History
Senior Year: AP Government/ Macroeconomics
English
Freshen Year: English 1-2 Accelerated
Sophomore Year: English 3-4 Accelerated
Junior Year: AP English Language and Composition
Senior Year: AP English Literature and Composition
Math
Freshmen Year: Geometry Accelerated
Sophomore Year: Algebra 2 Accelerated
Junior Year: Honors Precalculus
Senior Year: AP Calculus OR AP Statistics
Science
Freshmen Year: Biology 1-2 Accelerated
Sophomore Year: AP Biology or Honors Chemistry
Junior and Senior year: Must take 3 years of science
The third and fourth year of science must be an AP, honors, or accelerated
Fourth year of science is not required
WAVE Capstone:
Start from Sophomore year OR from Junior Year
AP Seminar
AP Research
Additional Classes:
Science: Minimum of 3 years
Must be Accelerated, Honors or an AP Course.
World Language: Minimum of 4 Years of the SAME language
Visual/Performing Art: Minimum of 1 year.
Physical Education: Minimum of 2 years
Substitutes: Dance, Bruinettes, or Cheerleading