Clue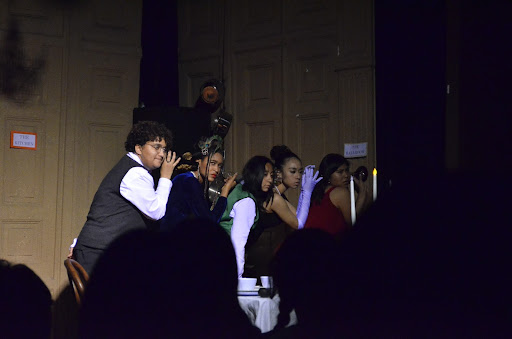 LONG BEACH, CA- Kicking off with Drama's first show of the year, these students have been preparing with each other to show family and friends what they have worked really hard on so far. Going from buying and making their stage props, these students are dedicated to what they do to give a fantastic performance.
For "Clue" there were two different groups of students who shared roles and performed different days. The two groups were the "Boddy" and "Manor" cast,  and each had a whole different feel compared to one another. Each of the students had portrayed the characters accordingly, but in a way they made the character their own since they all have a different way of acting.
"Getting the students to learn their lines in a timely way, was one of the hardest parts of the performance." said Anne Smith, the theater director and English teacher here at Wilson. 
Many of these students had also agreed with this statement from their teacher Mrs. Smith, in how learning their lines was such a huge challenge for them. Olivia Shibuya, a Junior in the Performing Arts pathway, explains that it was very hard to learn all the lines in the script. And it wasn't so easy for her fellow classmates as well. Some have learned their lines last minute, and those who had huge roles had long monologues to remember. They felt there needed to be more time.
"I think that the cast went really well together, and that all the people did really well with their characters." said Quetzal Alcaraz a senior in the Performing Arts Pathway," It's just a lot of lines, so I think people forgot some lines sometimes, so we had to cover with improv. It was okay, I think we did fine"
Since this was some of their first productions, it was very nerve racking for most. It wasn't easy for them to go up on stage for the first time and just perform for friends and family. So there were lots of pauses and freezing, but thankfully their fellow cast-mates were able to nicely cover them and still make the show enjoyable.
It wasn't exactly easy for this production to be made. "I often talked to other teachers from other schools and it really helps," Said Mrs.Smith,"but I also saw the performance and wanted something that was funny but also challenging and I didn't want anything that was too long."
Mrs.Smith was a lot more prepared this year for her students. She decided to use shorter productions and try and get the soundtrack earlier before they put everything together. To prep the students for auditions she had them memorize the script and had them perform it at different times. She later posted the list two days after auditions were over. Accommodating the roles the students wanted she tried her best to give the roles her kids wanted, but at the same time looking for the perfect role for them. Not everyone had gotten the role they wanted but it was a chance for them to get out of their comfort zone.
This has inspired many of these students to be excited for more productions, so a lot of them are for sure going to audition for later plays. They are going to take into account what they learned from this performance and see what they can do differently.
"Yes, I hope I won't be as nervous because now I kind of  know what to do. Maybe this time I will get the role I want." Said Ruby Paredes, a Junior in the Performing Arts Pathway, "I will be auditioning for more shows coming up, especially the spring one coming up,  because I think Mrs.Smith did an amazing job with every thing."
Mrs.Smith has made her students love theater and find joy in performing. She has put a lot of effort into her classes and her students see it. It was rough for them in the start, but they will take this performance as a learning experience for them for future productions.