The Annual Canned Food Drive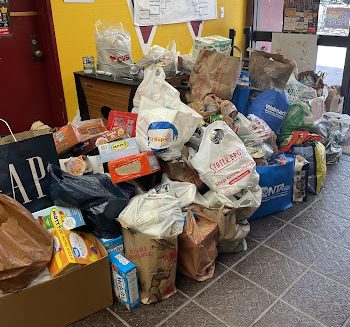 LONG BEACH, CA- For the past 25 years, during the holiday season at Wilson High School, there's always been an annual food drive for those families in need. This is specifically planned by ASB, who decides to get in the holiday spirit by donating cans and perishable food towards Salvation Army. 
ASB, multiple clubs and classes volunteer to collect cans for the food drive including non perishable foods, such as granola bars, cans, pasta, and gummy snacks.  
Ms. Fekjar, head of ASB and other activities on campus, said "I hope we can get around a couple thousand cans" on December 5th, 2022. A few days after that statement was made, while counting the day's amount, the goal was easily met with a total of seven thousand cans.  
The class that collected the most cans wins a prize easily sought after: free food.  The class has the choice of either a pizza party or a donut party. With this in mind, students had more of an incentive to donate than ever.
Teachers all over campus pushed their students to donate to the drive, but they couldn't catch one teacher in the end.  Mr. Wegter had the most cans donated for the canned food drive of 2022, having convinced his classes to donate as much as possible.  Simple to say, he ended with a grand total of 2,705 cans.  
The activities office had the idea to throw the pizza party which Ms. Fekjar is in charge of, and the money for the food was funded by the ASB department.  The winning teacher was publicized on the tri-weekly morning announcements, and cheers could be heard from Mr. Wegter's students as they found out that they had won. 
Their donations not only caused happiness for them, it positively impacted those asking for help through the Salvation Army.