GSA Meeting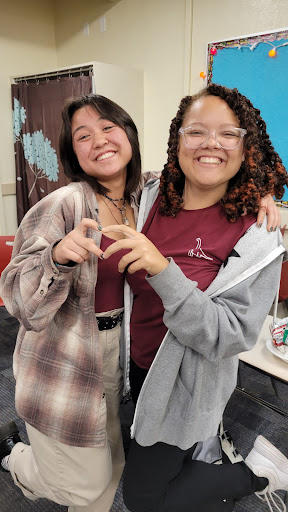 LONG BEACH, CA- On Wednesday, October 26, several student representatives from Wilson and Poly High Schools got together at Wilson, to discuss the LGBQT+ student communities at these schools. The meeting also addressed the plan for the rest of the school year to help solve LGQT+ student struggles at both campuses.
They discussed 4 LGBT+ related issues they believed that Poly, Wilson, and in two cases what the district faced as problems. The first problem they see with the schools is that LGBT+ kids might not have much guidance or help when feeling threatened about their identity because the teachers and administrators alike don't have their own resources to know how to help the kids. The next one is that they have come to the realization that student bodies at school, such as ASB, do not have many LGBT voices or standing when it comes to major decisions for the school. The district as a whole faces the issue of lacking specific resources that students and administrators can go to for guidance and support for LGBT students when they're faced with homphobic or transphobic harassment. The district is also not aligned with all of California's policies that are relevant and protective for LGBT students, which can cause a confusion and lack of understanding for administrators, parents, and students about LGBT rights on campus grounds and when we're living our own lives. 
They created a roadmap to solve the issues over the following school year and will take up to 2 students representatives and 1-2 teachers or admin in total. The administrative help for Wilson will be coming from Ms.Nguyen, Anika Kerekes and Mekenzie Reid are the student ambassadors to help this project. Both Anika and Mekenzie run the pride club here at Wilson, Anika being the president and Mekenzie being the vice president, but Anika has been working together with GSA since last school year. The GSA network here at Wilson is still looking for more people to join and help, if you're interested in joining then go to pride club in room 1101 on a friday and ask Anika about it. 
At the meeting there was discussion about how teachers and administrators have little support given to them by the district to help them enact policy on campus. This means that they believe there's no definite answers or guides where teachers and administrators can go into a situation regarding homophobia or transphobia and know how to resolve it. The GSA recognized this issue and their plan to help solve it is to work directly with the district and the schools to make a guidebook. They wish to make a guidebook to help staff at schools learn how to take care of these targeted groups in ways that the slideshow presented put it as "increases knowledge of Trans & Queer student issues, highlights all relevant policies and provides guidance on how to respond to violations."
Similarly to the last paragraph, there seems to be issues with resources to help administrators and students in this case. According to them neither one of those groups have any specific forms of help from the district website to turn to in conflicts. The website doesn't provide tangible guidance for LGBT students through their "everyday realities of homophobia and transphobia on campus". They plan to go through this by working with district representatives to review and provide updates for the website to ensure they provide help that is accurate, accessible, and most importantly useful. But they also plan to use this method to work on school specific websites. 
There was also a discussion about the policies at LBUSD. It's said that the policies at LBUSD are not in line with the current policies that Califonira has. With unaligned policies in our school district it becomes confusing for administrators, students, and even parents to know and learn about the protections and equalities LGBT kids require on campus. The GSA's plan forward from here is to work with student support services to audit the district's current policy, to review what is currently here, and to find gaps and develop policy language for what's missing. 
The GSA has worked with Wilson for several years. This year they plan to face LGBT troubles and aid by providing more resources for teachers, students, administrators, and parents. By making said resources easily accessible through the district website. By helping the district keep their policies in line with our state. And making it easy for people to get help in times of conflict.