The Bruins' First Scrimmage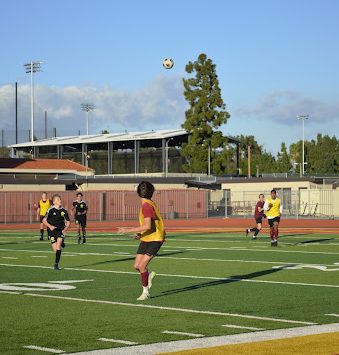 LONG BEACH, CA- After watching the boys' soccer team play an undefeated Moore League championship season, the Wilson Bruins are beyond excited to support their soccer team through another season, with it starting in a scrimmage against J. Serra High.
The boys making up of Wilson's varsity soccer team began their season early on Wednesday in an unofficial scrimmage against Junipero Serra High.  With an eagerness and hunger to get off the grass field and transition onto the turf, the Bruins played their hardest against the Division 1 team.
Junior and left wing Miles Frazier was one of many on the team that was happy to play again.  "It feels good, you know," he said.  "We want to get this win on J. Serra, it's a good team."
The boys kept a strong hold on the ball throughout the game and were determined to keep the other team at bay, but their tactics were deemed unlucky when Serra scored near the end of the scrimmage, winning the game.
Junior Cesar Perez had comments as well.  "We had a little fight in the beginning and we don't want any of that, especially not when we have good teams like this coming to us," he said. "That can give us a bad reputation and we don't want that."
Perez refers to "a little fight in the beginning" in his interview, one of which was literally minutes after the game started.  Wilson player Manny Moreno and an unnamed J. Serra player exchanged words on the field before physically offending each other, leading to Moreno to be taken off the field for the rest of the game.
Moreno had no comments, but his teammates had a general consensus that on their field, as well as another school's field, there was no place for verbal or physical aggression.
The varsity team, as well as fresh-soph and JV, will be seen back on the field on Monday, December 5th against Downey High School.