Welcome to the Hall of Fame
Long Beach, CA-  "I got my letter," said Gayle Godwin, one of several brand-new inductees of the Wilson Athletic Hall of Fame that received recognition. On September 16th, 2022 Wilson High School celebrated their worthy athletic alumni during the Wilson vs. Millikan football game. Wilson's Hall of Fame promotes school spirit and motivates our current student-athletes.
Gayle Godwin, a tennis alumni, received her sports letter 53 years after graduating in 1969. This long wait was due to the gender-based discrimination at the time that prevented female athletes from competing in sports. A law, Title IX, was later passed in 1972 (after she had graduated) that prohibited discrimination based on sex in education programs and activities. "…[The law] opened up so many opportunities for women," said Godwin. Godwin exclaimed that during the time before the law was passed, she didn't like how women's sports were getting cut so there could be more room for men's sports. After graduating from Wilson High School, she became a tennis coach at UCLA for four years. After decades with no recognition, Godwin has finally gotten the attention and decoration she deserves; her name will echo throughout the Wilson High School Hall of Fame for years to come for her resilience.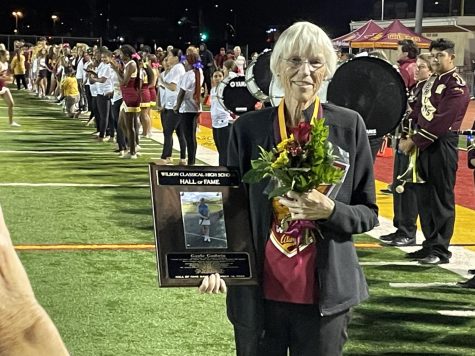 However, Gale Godwin isn't the only one running into the Hall of Fame. Recognized for their excellence in Track and Field at Wilson, Cecelia Noel, Mackenzie Hill, and Glennis Seldon were awarded on September 16, 2022 as well. "I feel excited! [It] all started at wilson." Noel got the record for the longest jump of 19 inches while attending Wilson. Another honor would go to Hill for her full ride to UCLA as the track and field team captain.
Hill represented the US on a National level by competing in the Youth American Games in 2003 after high school. "I'm excited to be honored where my career started." Exclaimed Hill. Glennis Seldon would also receive a full ride to Oral Roberts University for track and field and cross country. She stated how she loves the physical and mental aspect, the life skills it brings, and pushing herself past her limits. Seldon would cheerfully remark, "Life isn't always peaches and cream." 
These three astonishing women will join Gale Godwin in Wilson's Hall of Fame. Their hardwork and perseverance have proven inspirational to little girls and athletes all throughout the Long Beach school community.