Natalee Russel in the Spotlight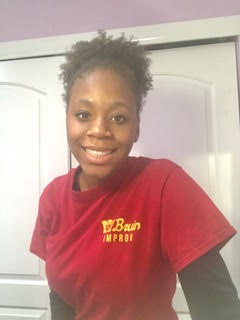 Wilson High School has a star. Junior Natalee Russel is a semi-finalist in the August Wilson Monologue Competition, through the Center Theatre Group in LA. 
Russel is an eleventh grader in the School of The Arts Pathway, and is a dedicated theatre student with some experience under her belt. 
Russel recently found out that she did not make it as a finalist for the competition, but did have an amazing experience being a part of the first section of the competition. Just recently she was interviewed by a team of actors who chose her performance out of hundreds of submissions. 
The whole experience was a surprise to Russel. It started as a suggestion from her drama teacher Paula Riley, and quickly evolved into an all out brawl for the top spot. 
"I submitted because Mrs. Riley told me to, I never had any expectation of getting to where I am," said Russel. 
Although she had no expectation then, she was very excited she was chosen to move on to the live interview portion of the competition.
"The monologue I chose was the character Martha Loomis Pentecost from the play Joe Turner's Come And Gone. "
She chose that monologue after Riley taught the play, she wanted to embody the strong independent woman character. 
The competition revolves around monologues in the Pittsburgh Cycle of plays August Wilson wrote from the 1900s to 1990s. The Cycle is based around the 20th century culture of African Americans, highlighting the highs and lows that they have faced. Because of the importance of the plays, August Wilson was named "The Theatre's Poet of Black America." 
In light of the current health crisis, the 12th annual August Wilson Monologue Competition will be held online May 2–3. The event was originally scheduled as an in-person ceremony for May 4.
The 28 student finalists will spend the first day gathering for introductions from competition co-founders Kenny Leon and Todd Kreidler, followed by a series of online master classes with industry professionals. The May 3, session will feature a college- and career choice–focused panel with competition alumni, followed by a panel discussion with actor Russell Hornsby, Tony-nominated costume designer and August Wilson's widow Constanza Romero, actor Roslyn Ruff, and Jujamcyn Theaters Senior Vice President Jack Viertel. The day concludes with finalists performing their prepared monologues for the group, hosted by Hornsby and Ruff. There will not be winners at this year's event, but will celebrate the work of all the finalists.