Tribute to Kurt Holmes – Lifelong Bruin
On Saturday, December 12, Kurt Holmes passed away at the age of 62 in his Huntington Beach home. An agonizing loss to the Wilson community.
During his 24 years of teaching at Wilson High School, Mr. Holmes taught piano, AP Music Theory, AP Seminar, directed the school orchestra and marching band, and served as a golf coach.
"Mr. Holmes was a student-first teacher. He would always go out of his way to help his students and volunteered his time at countless school events every year," said Jeffrey Evans, the Wilson Athletic Director and a dear friend of Mr. Holmes.
Mr. Holmes considered the Wilson staff and students as part of his family.
"Kurt attended all Winter Formal and Proms for at least the past 15 years and supported students in need for our Holiday Box Project. He was the Piano Club, In theory Club Sponsor and random other clubs over the years," said Erin Fekjar, Wilson's Activities Director. Consistently free to lend a helping hand, every knew that they could always count on Mr. Holmes.
As a friendly face on the Wilson school grounds, Mr. Holmes made it clear to all students and faculty members that his room was open for anyone.
"Mr. Holmes always had time for students," said Evans. "His room was open every day at lunch. It was open to students who were not even in his classes or on the golf team. Anyone was welcome."
Students knew that Mr. Holmes cared about them. He had "an extensive snack cabinet for his students," said Fekjar. Mr. Holmes wanted to ensure that students could focus on school, and not worry about being hungry.
During lunch Mr. Holmes consistently streamed Disney movies to cheer up the students that camped in his classroom. Students could choose from Coco, Moana, Toy Story, Frozen, Aladdin, and countless.
"You could find the students watching a Disney movie or listening to music, or just enjoying a welcoming place to hangout with each other," said Evans.
Lou Warde, the Wilson guitar teacher  said, "passing his classroom everyday and seeing how he loved to hang with the students was a joy."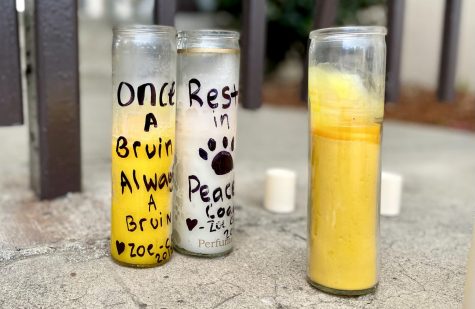 For students Mr. Holmes was more than just a Piano 1-2 teacher. He coached his classes with life skills, cracked jokes, and always strived to help his students in any way possible. Mr. Holmes went above and beyond to assist the whole class.
Mr. Holmes would check up on each student during piano playing tests, he would calm the nerves of anxious students and never once judged a student on their ability to play the piano. He did not only teach students how to play the piano, he also taught the history behind each piece.
"I was amazed at how the students loved him and how he was motivated by the students to keep going. It was something he cherished most in his life," said Warde.
On the golf course, Mr. Holmes was a hole in one for the Wilson team.
"Coach Holmes was always so patient when it came to working with the golf team. He was instrumental in the growth of our JV Girls Golf Program" said Evans. "Coach Holmes had the ability to take a beginning golfer and develop them to be able to play and enjoy the game of golf. He was consistently patient and continued to work with the players even when they may become frustrated or struggle while learning."
Evans admired Mr. Holmes' passion for the sport and his encouragement of the students. "When the golfer had success, no matter how small, you could tell how happy he was for them. He was always encouraging of the players he coached and his students in the classroom."
As a Wilson alumni, Mr. Holmes developed friendships all around the campus. Evans explained, "I knew Mr. Holmes for all 15 of my years at Wilson. He joined the golf program as an assistant coach in 2009 before becoming our head JV coach, and eventually the Head Varsity Golf Coach in 2019-20. One of the reasons I was comfortable stepping away from the head golf coach position was I knew Coach Holmes was the right person to help keep the program going in the right direction."
Mr. Holmes had a great sense of humor that students and teachers greatly appreciated. "In our meetings, Kurt shared golf stories and it always put a smile on my face– I loved how he always found a way to make people laugh," said Wilson music teacher Eric Messerschmidt.
Mr. Warde was good friends with Mr. Holmes, remembering that "he had a quick and dry sense of humor as well as very sharp. Never once have I ever seen him get mad or frustrated. He helped me adapt to the school and get to know all the faculty in the music department."
Holmes is survived by his mother Marjorie, brothers Keith and Ken, sister Carol Buckley, brother-in-law Dennis Buckley, sister-in-law Joyce, a lot of nieces and nephews and his cat Sugar.
The Holmes family is accepting cards and condolences at 1911 Park St. Huntington Beach 92648 (c/o Keith Holmes) and a memorial will be planned for next year when COVID-19 restrictions on gatherings are lifted. The family said they are reading every card and note and that they are touched by the outpouring of love.
In addition to the Kurt Holmes Memorial Scholarship Fund has been established. The class of 2021 will be the inaugural recipients. To make a donation people can donate via credit or debit card at Wilson High School ASB Store. There is also a link to "ASB Webstore," on the right side of the school Web site homepage. People can donate using check or money order as well. Made payable to Wilson High School ASB, Check Memo Line: Kurt Holmes Memorial Scholarship. People can also mail a check or money order to:
Wilson High School ASB
Attention:Student Body Banker
4400 E. 10th Street
Long Beach, CA 90804
Drop off at Wilson
200 Gate on Park Avenue
Monday-Friday (school days)
7 a.m.-4 p.m.
View Comments(1)