Fauci Visits Wilson
On March 13, 2021, Dr. Anthony Fauci visited the Wilson campus to inform the Bruins of their moral duty during this time of utter crisis: to WAP it up. 
Fauci is a world-renowned physician-scientist and immunologist, and the current Chief Medical Advisor to President Joe Biden. However, what Fauci's resume fails to include is that the doctor is a great fan of Megan Thee Stallion, running the Twitter user account @ToniandMegan4lyfeee. 
Megan Thee Stallion is a rapper and songwriter phenomenon who has gathered media attention this past year for her collaboration with Cardi B in their song "WAP". In the spirit of combating the COVID-19 crisis, however, the Oscar winner joined forces with Fauci to spread the message of WAP, or Wear A Protective-mask.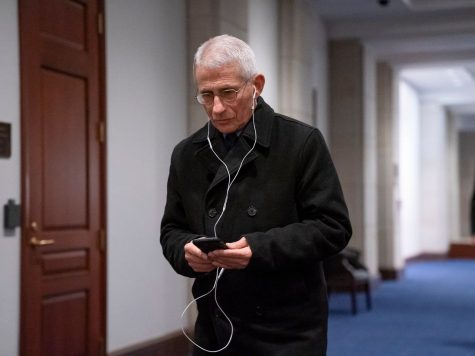 Upon entering the Wilson campus, it was evident that all of the Wilson faculty was ecstatic to see Fauci. Posters of "Fauci? More like Pow-ci" and "Tony ain't no Phony" flooded the school hallways for the notorious doctor. Strutting through the hallways like a proud goose in blue tinted sunglasses, Fauci nodded in approval of the bouncy cursive penmanship occupying the infamous ASB-made posters as he made his way to the Wilson front office. 
Greeted by the Wilson principal Kimberly Holland with a "Good morning Dr. Fauci, we're so glad to have you here!", the immunologist responded in an abrupt manner, saying "Nuh-uh. No." Holland, with Fauci's inch-and-a-half-long index finger now directly in her face, looked to Assistant Principal Edward Steinhouser for assistance, unsure of what steps to take next. 
Continuing with the campus tour, Holland escorted Fauci through the improved Wilson campus, emphasizing the new CDC-compliant protocols with social-distancing posters and hand sanitizer at the entry points of every classroom. The doctor, pleased with the campus decisions, applauded in a subtle whisper of approval, saying, "K."
When asked about the experience, Holland was starstruck. "He was a little rude, but it's okay because this dude is so short!" Steinhouser added, "I think I have a niece his height. She's eight."
With the agreement to film a video to inspire the Bruins for their final weeks of the spring semester, Fauci anticipatingly said "Can we get this over with? I have pilates across town in 25. Who has my SPANDEX????????"
Removing the sunglasses from his fragile grey hair, Fauci quickly changed his attitude as soon as Steinhouser turned the camera towards his petite figure. Without a moment of hesitation, the doctor said, "HEY GUYS!!! Dr. Fauci here! I am in love with the way Wilson is handling this return to campus and am sure you will be in good hands in these upcoming weeks. Just remember, stay safe, keep your distance, and don't forget to WAP!" To watch Fauci's message to the Wilson Bruins, click here. 
Leaving the kids with the powerful image of finger guns, it can only be imagined how Fauci will find innovative ways to protect us in the future, with the power of WAP on his side.